Bill and Sarah Stokely were motivated to start their own company in 1978 after Bill had worked for Donrey Outdoor for eight years. Bill was a visionary – recognizing that Tulsa was poised for growth in certain parts of the city. He secured leases before highways were constructed. There were some lean years for the company but Bill's intuition paid off and his advertisers and Stokely Outdoor were in the right place at the right time. The quality of outdoor advertising in the area also improved since Donrey and Stokely were fierce competitors. In the end, Stokely Outdoor, a small company, grew into a big name with even bigger potential for its advertisers.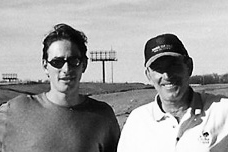 Bill's daughter Shelley joined the company in 1990 after graduating from the University of Oklahoma. She and Bill are known to Stokely customers as the sales arm of the organization. The company keeps things simple with a few basic goals: have fun, keep a positive attitude and work hard to ensure advertisers' success.Bill's son Sam returned to Tulsa in 2008 when he and his wife, Jill, began building their own outdoor company, Big Time Billboards. Stokely Outdoor and Big Time Billboards staff office together and support one another in sales, art design and customer service.
Another successful Stokely venture, the Stokely Event Center, is a showcase for a 30- year collection of neon and porcelain signs. The event center, owned and managed by Sam Stokely, is a popular site for a variety of functions in Tulsa.